Estab. Jan 2008
---
Welcome to the newest on-line news service in the Porterville area. Our goal is to report the right news at the right time. In doing this, we believe that the community will get a greater sence of being connected.
---
The Right News @ The Right Time
---
Our second goal is to report above and beyond the main stream media.
---
Politically Inform and Educate
---
Our third goal is to politically inform and educate the public at lareg.
---
A Conservative Publication
---
The Porterville Post is a conservative publication and news service and when the Post makes a mistake in our reporting, we'll address it "Right Here" and if needed, with an appology. Please feel free to contact us with your comments or suggestions.
---
Writers | Columnists | Reporters
---
The Post, in the new few weeks, will be looking for new writers, columnists and reporters. We understand the need for new writers to have the chance of starting a new career and we'd like to offer a free internship at the Post.
(Jan 31 2008) - Yes ... It's True !
You can get free advertisement here in this section. All you have to do is send us an e-mail with your contact info and we'll take care of the rest. If you're a Christian and a Conservative ... baby your in.
If you're liberal or belong to one of those "Secret Societies" - forget about it. You gave away the farm years ago and now it's time for those - you took from - to receive a few benefits for holding down the farm ... and that's Main-Street America -- not main-stream America.
You know who you are, so don't bother asking ... Get your rats and burnt forests or Sierra club friends to advertise for you.
Or ... call your friends at the United Nations or the Council of Forign Relations or the Trilateral Commission or the Bohemian Club in San Francisco or the Freemasons who are no longer free ... to tell the truth.
Most, if not all these exclusive / private / secret clubs and organizations have a common thread and that's to cater to their own needs first ... and then maybe piece-meal it out to the peasants and profane.
May GOD forgive all that you conspire to do ... in the name of man. And may the HOLY SPIRIT Convict your hearts and minds to the point that you ask, "What profit a man if he gains the whole world ... but loose his soul ?"
Do the right thing. Get before GOD before it's too late.
---
1977 : Remember Lucifer's Hammer
---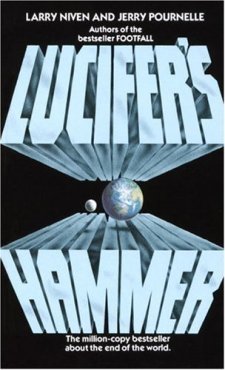 (June 1977) In 1977, Lucifer's Hammer - an apocalyptic science fiction novel - hit the streets like a hammer, or should I say ... like an coment. One of the outstanding features in this end-time novel, is it featured the city of Porterville and a few surronding areas. The Post wants to know, have you ever read the book and what did you think ?